How to connect 50 ultra low power slaves to one master?
Bluetooth Low Energy is limited because each wireless slave connected to the master will charge RAM. Nevertheless, Bluetooth Low Energy is just one 2400 MHz technology out of several others. In comparison to Bluetooth Low Energy a technology called ANT charges much less RAM. ANT needs less Flash ROM for the protocol stack as well. Right now the chip vendors promise 6 to 9 BLE slaves connected to one Bluetooth Low Energy master. The iPhone shall be able to handle up to 16 Bluetooth Low Energy connections. 16 is still much less than 50 and an iPhone is much to expensive for a low cost application. The good news is that an ANT master is able to handle up to 300 connections on one RF channel. The second good news is that the ANT master or slave needs much less memory as well. As less RAM and ROM the slave or master will need as cheaper the chip will be.
50 contacts with ANT slave in seats of a bus connected to one ANT master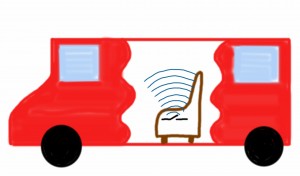 The request reached me this week and is a good example where Bluetooth Low Energy has to pass twice. BLE can´t handle 50 slaves. The 50 contacts will not talk to the master directly. The slaves will talk to a relay and the relay will forward it to the master in front of the bus. Please note that Bluetooth Low Energy does not support a wireless relay as well. With BLE you can get a star topology with 5 to 16 slaves only.
The ANT master will be connected to vehicle tracking device on GSM and GPS. The seats in use will be forwarded to the server.
If you have a need for connection of a lot of slaves on coin cell battery to a master or if you are not sure which the best radio protocol  for your application is , just drop an email to harald.naumann (at) gsm-modem.de