NB-IoT reference design in credit card size including PCB track antenna
The wireless IoT market is crying for small mobile devices transmitting for years from tiny batteries. With akorIoT Nano we developed the next open design.  "akor" is the Proto-Celtic word for "open". With placing the order for akorIoT Nano you get the schematic diagrams, some demo code for a unique PCB with NB-IoT-, GSM-, GNSS module in credit card size (85 mm x 55 mm), five sensors, including the embedded cellular antenna.
The akorIoT team offers not just a plain piece of wireless IoT hardware. You have the freedom to ask for antenna matching of any kind of antenna bought by any party up to placing an order for your own customised antenna. One reason for an own antenna will be maybe cost reduction. Another reason is that rectangle chip antennas does not fit in "round corners". The akorIoT team is able to develop antennas in different shapes up to copper structures sprayed inside of the plastic enclosure.
The basic akorIoT Nano will cost Euro 119. The Arduino Nano or STM32 Nucleo is Euro 20 on top. The software development environment is free of charge. The battery for quick setup you can pull out of your old smartphone. Your main invest will be your time. Ask for details by email to harald.naumann (at) lte-modem.com or info (at) akorIoT.com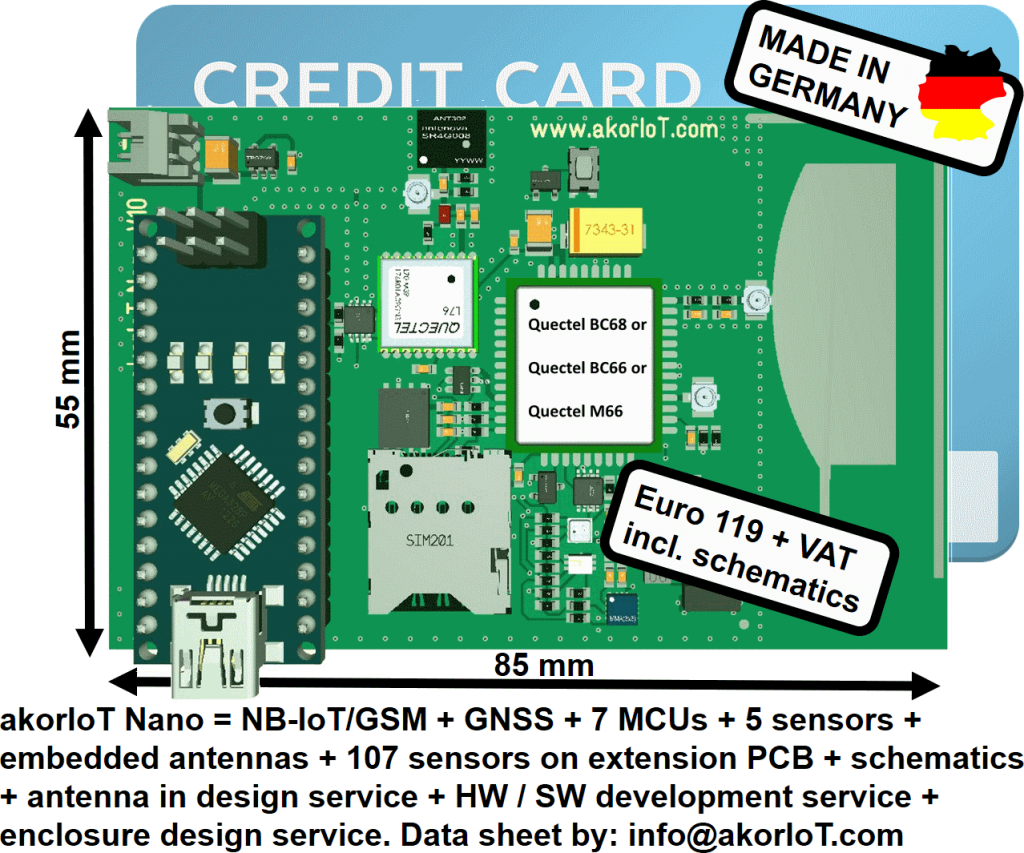 Essentials

Status
Mass production
Launch date
Q1 2018
Expected discontinuance
Q1 2030
Board Form Factor
Credit card size , 85 mm x 55 mm including the celular antenna
Socket
Arduino Nano / STM Nucleo 32
DC input voltage supported
Nominal 3.6 to 4.5 Volt
Recommended customer price
Euro 119
Processor included
by socket, seven different MCUs (e.g.  ATMEL, STM Cortex M0, M3, M4)
Documents
Schematics diagram open for akorIoT customer

Services

Antenna services
Antenna design and antenna matching service, reports on return loss and radioation pattern
HW services
HW design review of customer PCBs up to design of customised PCBs includung design of enclosures
Power supply services
Design aid for power supply concepts, selection of power supplies for IoT devices with a live time of up to 15 years trasmitting on small batteries (Meterings, long time trackers, sensors on battery)
SW services
Firmware, middleware and cloud server software development
Consulting services
Feasibility studies, proof of concepts, prototypes, market studies

Supplemental Information

Description
Compatible with the Arduino software development environment. In addition to Arduino hardware and software compatibility the akorIoT Nano is compatible to any C Complier compatible supported by ST Microelectronics Nucleo.
Additional Information URL
 www.akorIoT.com

Components main PCB

Cellular module
Quectel GSM M66, Quectel NB-IoT BC68, Quectel NB-IoT BC66
GNSS module
Quectel L76
Cellular antenna
Multiband GSM / NB-IoT antenna inside the main PCB
GNSS antenna
Antenova chip loop antenna Sinica
Bluetooth module
Embedded by Quectel M66
Bluetooth antenna
External antenna by U.FL connector
Sensors
Temperature, humidity, air pressure, light and accelorator sensor
SIM card
Standard SIM and eSIM

Memory & Storage

Max memory size
Related to the selected MCU
Memory types
Related to the selected MCU

Expansion Options

UARTS
2 related to MCU extension
I2C bus A
wired to the sensors on the main PCB
I2C bus B
wired to 20 pin extension connector
SPI
wired to 20 pin extension connector
Analogue Input
wired to 20 pin extension connector
PWM
wired to 20 pin extension connector
Digital Input
wired to 20 pin extension connector
MCU connector 32 pins
Connector to seven different MCU PCBs
Extension connector  for sensors
Extension to 107 further sensors ( e.g.  temperature, air pressure, humidity, visible light, infrared light, hall (magnetic), gas (NOx, alcohol, LPG, methane, carbon monoxide, hydrogen, Volatile Organic Compounds), smoke, fine dust, accelerometer, motion, gyro, compass, proximity, vibration, spectral intensity, EMC/EMG, heart rate, stretch force, lightning, earthquake, water leakage, soil moisture and a lot of more.
Extension connector  for bridge 20 pins
Extension to bridge to LoRa, BLE, Wi-Fi or further peripherals

I/O Specifications

Number of USB ports
1 by Arduino Nano or STM Nuceleo 32 for programming and debugging
USB revision
2.0
Has this article piqued your interest? Do you plan to deploy IoT devices with embedded antennas? Do you have an IoT prototype and need to optimise the design or minimise the price? If you have answered YES to any one of these questions then please do not hesitate to drop an email to harald.naumann (at) lte-modem.com and to ask for a proposal or some engineering services to make your IoT idea a cost-effective reality.