akorIoT Micro & Nano was world's first NB-IoT adapter with the freedom to select other cellular radios out of a range of modules without a SIM lock. You can also select any MCU kit with an Arduino compatible R3  or Nano expansion slot.
 "akor" is the Proto-Celtic word for "open"
akorIoT was the world's first IoT platform where virtually all options are open. akorIoT PCBs enable designers to easily develop and prototype cellular connected IoT devices using a 2G, 3G, 4G or 5Gnetwork. akorIoT includes all the components required to collect sensor data or sense position by GNSS as well as enabling data upload. It gives you the choice to select any cloud service you like for the management, storage and analytics of your IoT device.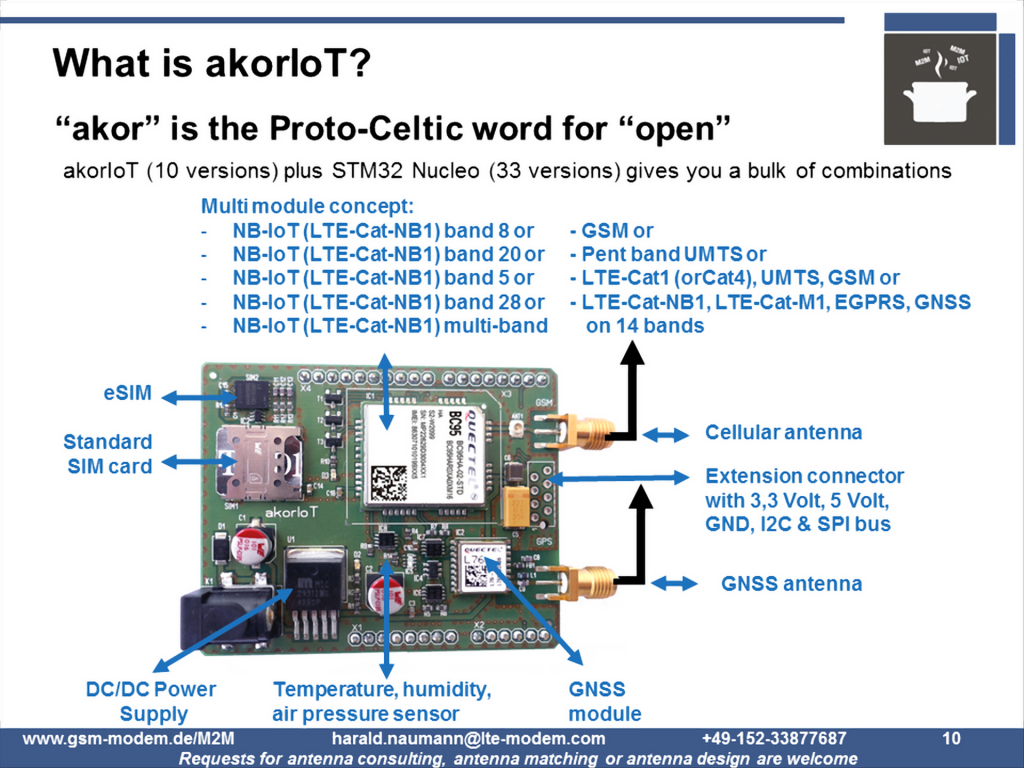 akorIoT Micro & Nano also enables you to select any MCU evaluation kit with supply voltage R3 or Nano slot. The MCU kit is the Arduino UNO or Arduino Nano. Real IoT products for mass production will use, for example, an ARM Cortex M0 up to ARM Cortex M4. The UN0 / Nano default configuration can be changed to an extension PCB e.g. STM32 Nucleo using jumpers. The cellular and GNSS module is connected to UART. The temperature, humidity, and air pressure sensors are wired by I2C-Bus.customisation.  Further sensors or extensions can be connected by the smart extension slots The MCU signal voltage level (3 to 5 Volt) is detected automatically. And akorIoT Micro gives you the choice of MCU from, for example, ATMEL, NXP, Freescale, Microchip, Intel (Galileo), Nordic Semiconductor and a lot of more.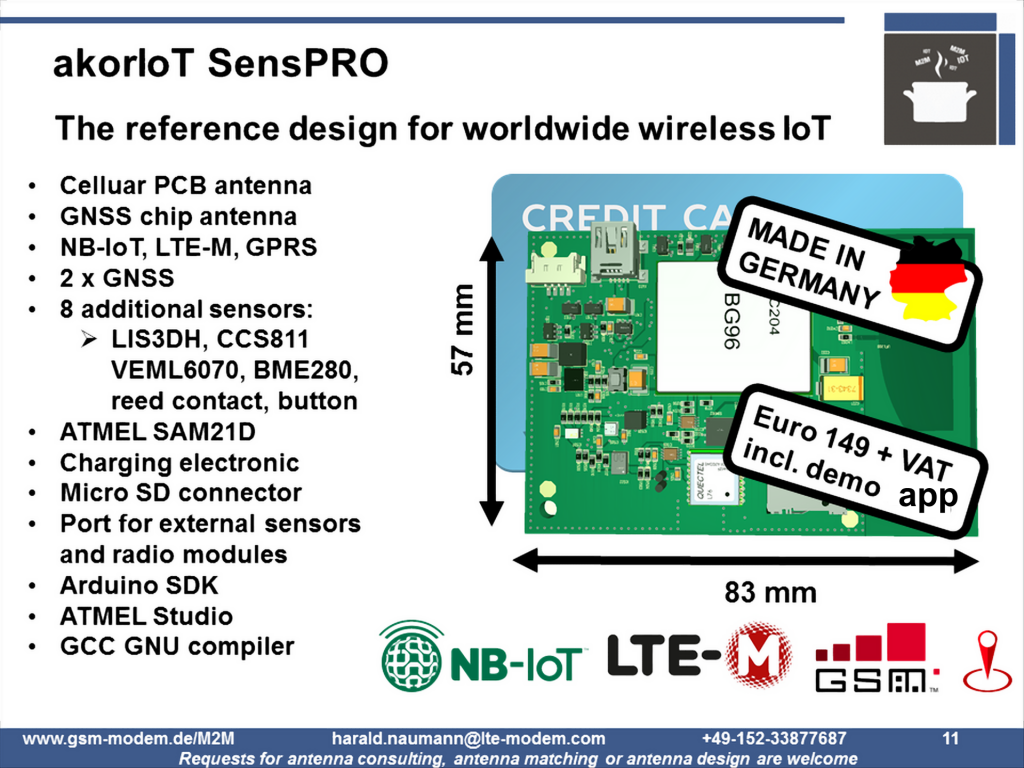 akorIoT SensPRO is essentially an akorIoT Nano in three different versions with three different MCUs on an all-in-one PCB. The akorIoT SensPRO is a finished PCB suitable for mass production up to 100K units. The simplest step of customisation to reduce the number of placed sensors or to produce it without a GNSS module. The next step of customisation is to use the extension port with supply voltage, I2C bus, and UART and to add customised PCBs. Fewer sensors or the extension PCB are neutral and will avoid a new radio certification. The customisation of the firmware on the MCU will not touch the radio certification as well. However, the SensPRO can get be redesigned to a customised PCB with customised antenna and customised firmware as well. Even for a such a complete redesign, the three standard akorIoT SensPRO PCBs are a perfect starting point for a proof of concept.
The akorIoT PCBs support cellular and GNSS antennas through RF connectors or via embedded antennas. The default SIM card is an eSIM (option) with automatic detecting and switching to the 3FF microSIM connector. Based on our open philosophy you can easily migrate code developed with an Arduino SDK or GCC GNU Compiler.
Has this article series piqued your interest? Do you plan your own LPWAN IoT device? Do you plan to deploy IoT devices with embedded antennas? Do you have an IoT prototype and need to optimise the design or minimise the price? If you have answered "YES" to any one of these questions then please do not hesitate to drop an email to harald.naumann (at) lte-modem.com and to ask for a proposal or some engineering services to make your IoT idea a cost-effective reality.