Wireless camera
Wireless GPRS camera based on embedded Linux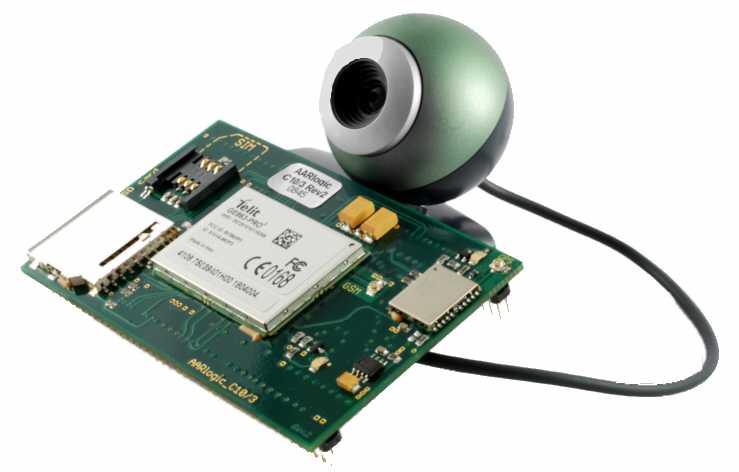 People who want to keep an eye on their valuable possessions round the clock are either constantly on the go or leave the watching to others. But there is a third option: the wireless camera. Unlike standard Webcams, our wireless camera automatically transmits recorded images by e-mail or saves them to a local memory card – ordinarily whenever an alarm has been triggered by a motion sensor or an image interpretation program. We offers now all of the components needed to build a fully self-sufficient wireless camera– all that is needed in addition is an ordinary USB camera.

The heart of the wireless camera is the embedded PC. This module is equipped with both embedded Linux and all of the components required for rapid image transmission via GPRS. Since the module can be programmed in any language – such as C, for example – customised surveillance systems can be set up with a minimum of effort.
The camera can be powered via a mains adapter or by solar cells. And of course a SIM card from a suitable provider is needed for e-mail image transmission. We offer a demo program and a free source code in C along with the camera components. The source code enables users to transmit recorded images in the JPEG format to any selected e-mail address. This gives developers an ideal opportunity to demonstrate the advantages of wireless camera to our customers.
Technical data of wireless camera
Controller with periphery

CPU ARM9 AT91SAM9260 (200 MIPS)
RAM for 64 MB application
Data Flash (Non volatile) 4 MB up to 128MB Flash
SD card / MMC card
GPI0 Pins , AD / DA converter
4 COM-Ports, 1 USB Device, 2 USB Host, I2C, SPI
JTAG Interface
Charging circuit for LIPO Battery
DC/DC Power Supply, input voltage 6 to 32V

Radio modules

Quad-Band GSM/GPRS Module incl. SIM card holder
GPS-Module based on SiRF 3/LP

Operating system

Embedded Linux Kernel Version 2.6.24

Supported cameras

Currently you have the choice between 168 different cameras. Examples: Intel PC Camera Pro, ViewQuest M318B, Kodak DVC325, DLinkDSC350, Creative PCCAM300, Aiptek Mini PenCam 2 M, Genius VideoCAM Express V2, Hama USB Sightcam 100, Petcam, Arowana 300K CMOS Camera ...
Content of the wireless camera starter kit
Mainbard, adapter board with wireless modules (GSM and GPS) and embedded PC, Ethernet-IP-Link, Linux source code, software development environment, cable RS232 to USB , cable CMOS to USB, cable D-Sub 9 Pin RS232, GSM-Helix-antenna, external combined GSM/GPS antenna, GPS-Patch-antenna, GSM-board-antenna , two integrated GSM-antennas ,two coaxial cable, microphones, loudspeaker, LiPo battery 1350 mAh, source code for wireless camera and tracking device, access to User forum, access to free of charge tracking platforms .